Comicast #333 Darth Domino Vader Captain Thanos America
Pablo Gunner
&

JD

deliver the April 11th comic book reviews. First they talk nerdy about
Dragon Ball Super,
Legion, Legends of Tomorrow, Black Panther Black Jeopardy, the Avengers Infinity War presales, gaming, y mas. JD & Pablo get heated on certain books whether they're a BUY, Skim, or pass. JD decides his
Runner-Up & BBOW but Pablo doesn't make it official on his
.
Rate, review, subscribe, and listen to our podcast on iTunes, Google Play, Stitcher, Poddirectory and Podkicker.
CAPTAIN AMERICA #

7

00, CHAMPIONS #1

9

, DETECTIVE COMICS #97

8

, DOMINO #1, ETERNITY GIRL #2, EXILES #1, FLASH #4

4

, HAL JORDAN & THE GREEN LANTERN CORPS #4

2
, THE IMMORTAL MEN #1, STAR WARS: DARTH VADER #1

4

, STAR WARS: THRAWN #

3

, THANOS #18, TITANS #2

2
, TRINITY #21, X-MEN: BLUE #2

5
TNTM The Show
Comic
ast #3

33
Comics in Review
Writer: Ed Brisson
Artist: Dalibor Talajic
Color Artist: Carlos Lopez
OG Logan, as I call him, has been trying to get a stolen thumb drive decrypted. In this issue Bullseye retrieves it from the lady Logan gave the drive. The exchange was weak and left much to be desired. After discovering this, Logan goes after Bullseye. OG Logan gets the drive back and takes it straight to the source to find out what's on it. Another exchange that left much to be desired, as can be said for the issue and arc. The art is pretty solid albeit a little rough around the edges somewhat like Logan himself. Decent conclusion but the build up was nowhere near the payoff.
Grade: STRONG Skim!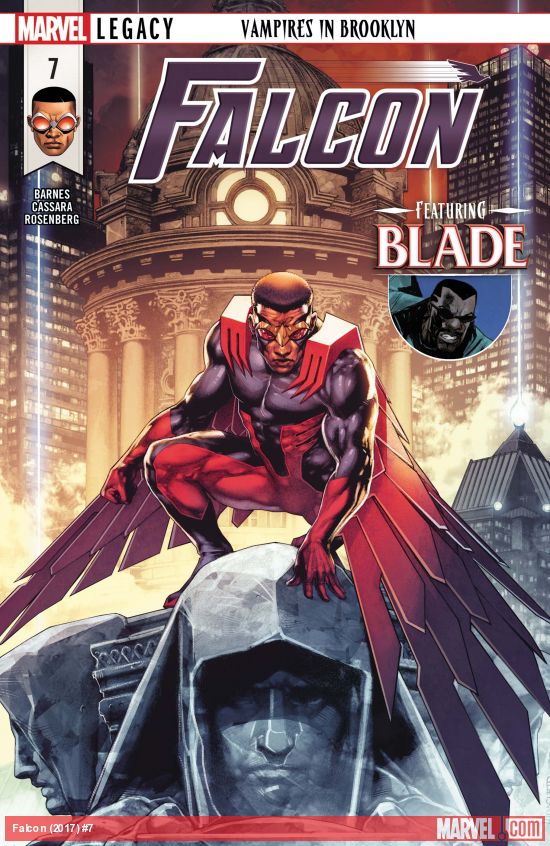 Color Artist: Rachelle Rosenberg
In the previous issue the crush of Falcon's sidekick got turned into a vampire, Sam got help from his crush, Misty with a missing homeless case. This one starts with a flashback between Sam & Rayshaun getting the blessing from the young protégés mom. In search for Patriot, Falcon gets attacked by vampires. He warns Misty, she gets help from Blade, and Sam continues the search for Rayshaun and now Deacon Frost who has kidnapped him. There's more of that throughout the rest of the comic. This book is dark, seedy, and intense through the storytelling. The visual tone matches and looks tremendous. This book is finally what I want out of of it. I appreciate how it's bright and heartwarming at first but get dark quick and even darker and more vicious as it goes on. I will definitely be picking up the next issue. Blade & Misty Knight teaming up to slice vampires is enough to keep me reading but oddly enough that's just the icing on the cake.
Teenage Mutant Ninja Turtles #81 $3.99
Story: Kevin Eastman, Bobby Curnow, & Tom Waltz
There's a brilliant side by side split panels of Splinter & Leonardo meditating separately but at the same time. They have a shared vision of the Rat King which is a magnificent two page spread that illustrates this eloquently. Seeing the conclusion of this vision rattles them and they each begin to prepare in their own ways. There's a gang fight that the Foot intercede in. From there they meet with Bishop of the Earth Protection Force. The Rat King begins his parade. The turtles visit April at Baxter's lab to use the teleporter. They end up going somewhere I didn't expect at all. The dialogue, paneling, story were terrific. The art was absolutely astonishing. The color are charming and charismatic yet fitting to the tone and feel the story during dark, moody times. I'm excited to see what comes. This issue is incredible.
Grade: STRONG BUY!!! & contender
Time Stamp
Intro Song: Sushi Box by Anamanaguchi
0:01-0:49 Intro: Sponsors-Twin Suns, Age Of Comics, Gamers Anonymous, Host-JD, Pablo Gunner, April 11th comic books, Grade Scale-BUY, Skim, pass, Back 'n Bag of the Week aka BBOW, SPOILER ALERT!
0:50-6:42 Talking Nerdy: Dragon Ball Super, Legion, Legends of Tomorrow, Black Panther Black Jeopardy, Infinity War presales, Justice League, God Of War
6:43-8:23 April 11th comic books, Grade Scale-BUY, Skim, pass, Back 'n Bag of the Week aka BBOW, SPOILER ALERT!
8:24-10:26 THE IMMORTAL MEN #1
10:27-13:16 ETERNITY GIRL #2
13:17-17:16 DOMINO #1
17:28-21:00 CAPTAIN AMERICA #700
21:43-26:15 FLASH #44
26:16-30:16 X-MEN: BLUE #25
30:52-33:49 DETECTIVE COMICS #978
33:50-36:59 Commercial Break: Twin Suns
37:00-39:31 STAR WARS: DARTH VADER #14
39:35-42:34 EXILES #1
43:00-44:39 HAL JORDAN & THE GREEN LANTERN CORPS #42
44:40-48:34 THANOS #18
48:32-51:24 TRINITY #21
51:39-55:10 STAR WARS: THRAWN #3
55:58-57:58 TITANS #22
58:25-1:01:01 CHAMPIONS #19
1:01:02-1:05:04 Runner-Up & BBOW
1:05:05-1:06:04 Outro: Donate to our PayPal on tntmtheshow.com, Social Media - http://tntmtheshow.tumblr.com, instagram.com/TNTMtheshow, www.facebook.com/TNTMtheshow, twitter.com/TNTMtheshow, send your questions & Dick(Grayson) pics to TNTMtheshow@gmail.com, you can find us on Stitcher, iTunes, Podirrectory, https://m.youtube.com/c/tntmtheshow
Outro Song: Cheap Shop