TNTM The Show Comicast #289 X-Nova Gold
JD & Pablo Gunner add
ress
the comics of
June 7th
. They talk nerdy about the Black Panther & Black Lightning trailers, what's "free" on XBox Live Gold and PS+ right now, y mas. Pablo missed a few DC books so he did written reviews for them but other than that they cover most of Marvel & DC's titles. Find out which were the STRONGest, the best, and second best.
Rate, review, subscribe, and listen to our podcast on iTunes, Google Play, Stitcher, Poddirectory and Podkicker.
ALL-NEW GUARDIANS OF THE GALAXY #3, AQUAMAN #24, AVENGERS #8, BATMAN #24, BLACK BOLT #2, CHAMPIONS #9, CYBORG #13, GREEN ARROW #24, GREEN LANTERNS #24, ICEMAN #1, IRON FIST #4, NIGHTWING #22, NOVA #7, REBORN #6, SPIDER-MAN #17, STAR WARS: DARTH VADER #1, SUPERMAN #24, UNSTOPPABLE WASP #6, X-MEN: GOLD #5
TNTM The Show
Comic
ast #28

9 X-Nova Gold
Podcast Rating: PG-13
Superman #24 $2.99
Story: Patrick Gleason(@patrick_gleason) & Peter J. Tomasi(@PeterJTomasi)
Pencils: Doug Mahn
ke & Patrick Gleason
Inkers: Jaime Mendoza, Mick Gray(@inkermick), Joe Prado(@Joe_Prado), and Doug Mahnke
Colorists: Wil Quintana, John Kalisz(@jkalisz), Hi-Fi(@hificolor)
It starts with a flashback to when Manchester Black was in space. Some aliens got attacked and they ask for his help. Then we have a similar situation in Hamilton now except it's the townsfolk and they are essentially saying that the Elite's presence has actually made things worse. Superman goes to find his son. Manchester show up with him, explains his plan. They duke it out a little bit. Supes releases his allies from Black's pods. Then he turn Jon against his father. I appreciated the art a lot. I was impressed with it. I thought it was well done. The story felt like it was missing something. I know of Manchester Black and the Elite's because of the animated DC movie but I still felt a little lost. There's definitely a lot of unexplained history especially for readers that know nothing about this guy, his group, and past with Superman. That hurts this book and arc the most. Besides that this is solid. If you know nothing of these characters though you just might want to skip this arc.
Grade: BUY!!
Green Arrow #24 $2.99
Story: Benjamin Percy(@benjamin_percy)
Art and color: Juan Ferreyra(@juaneferreyra)
This has Green Arrow traversing underground to get to a Ninth Circle temple under Queen industries like a side-scrolling video game. Once he get there it changes as he faces down the boss and his lackeys. All the while the rest of his crew, Arsenal, Red Arrow(his sister, Emi), and Black Canary, are doing their thing and taking on two of the Four Horsemen. This book is mostly comprised of two page spreads/layouts. The panels designs and structures are brilliant, unique, but also classic and practical at times. It works perfectly. It's a magnificent work of art. I think this arc would be better in trade but nonetheless this book is pure excellence. This book is what I wish the show was.
Grade: STRONG BUY!!!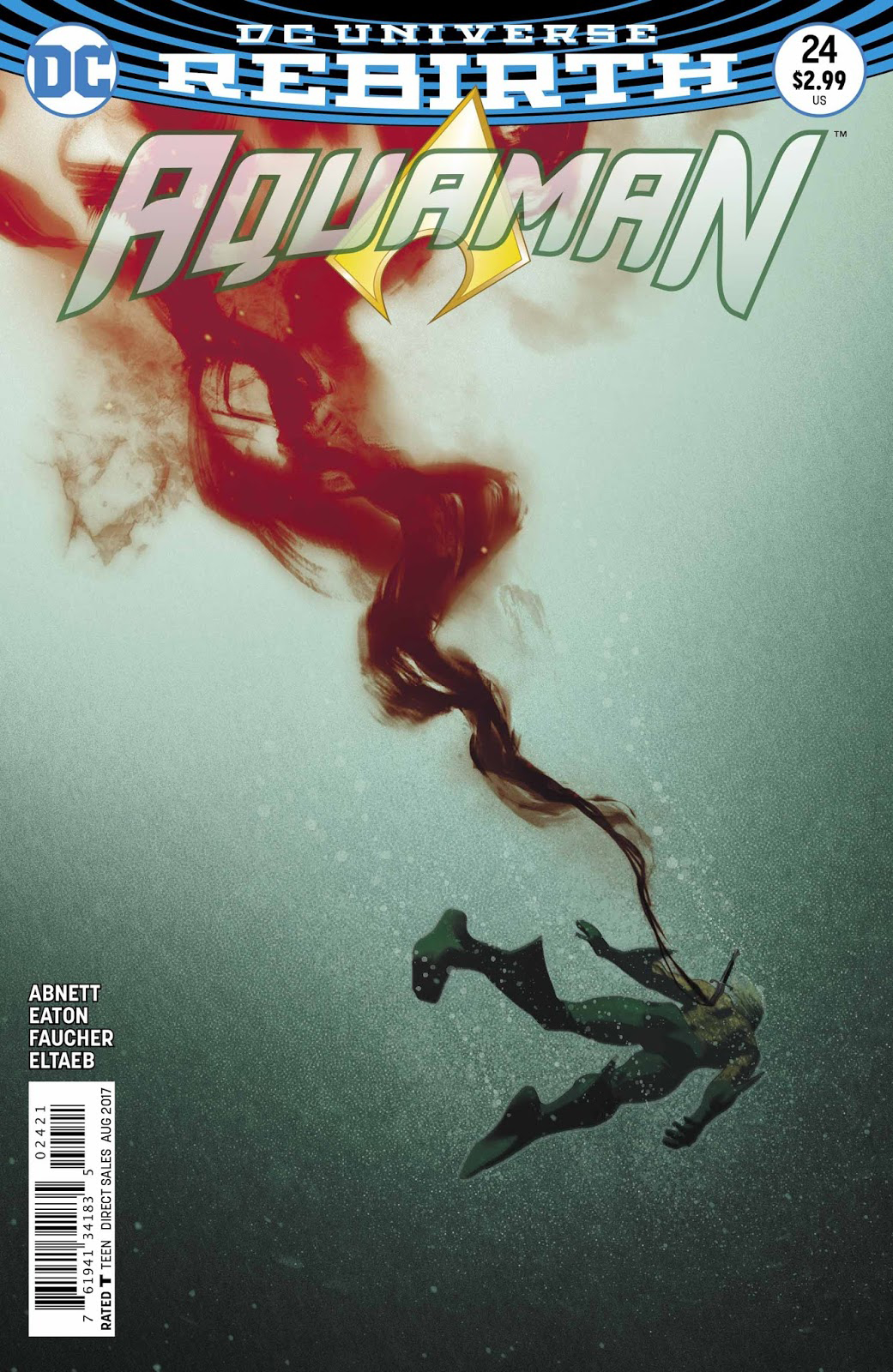 Aquaman #24 $2.99
Story: Dan Abnett
Pencils: Scot Eaton & Philippe Briones
Inks: Wayne Faucher, Philippe Briones, & Scott Hanna(@inkerscott1)
Colors: Gabe Eltaeb
In this issue we have Mera pleading with Arthur to just leave Atlantis and go back to their life in Amnesty Bay. The Atlantean council makes their final decision on who will be king. The king immediately utilizes a barrier to protect the city called the crown of thorns. It gets pretty intense at the end as Mera comes to aid. It looks solid all the way through. Probably not the best jumping on point but it's pretty clear cut and dry. I can't wait to see what Aquaman does next.
Grade: STRONG BUY!!!
Intro Song: Sushi Box by Anamanaguchi
0:01-2:01 Intro: Sponsors-Twin Suns, Age Of Comics, Gamers Anonymous, Host-Pablo Gunner, June 7th comics, free digital comic codes, Grade Scale-BUY, Skim, pass, Back 'n Bag of the Week aka BBOW, SPOILER ALERT!
2:02-11:01 Talking Nerdy: Black Panther trailer, Black Lightning trailer, July XBLG Lara Croft Temple of Osiris, Speedrunners, AC3 360, PS+ PS4: Life is Strange, Killing Floor 2, PS3: Abyss Odyssey, WRC 5, Vita: Neon Chrome, Spy Chameleon
11:02-15:38 STAR WARS: DARTH VADER #1
16:06-19:34 ICEMAN #1
20:03-22:08 BLACK BOLT #2
22:24-24:45 ALL-NEW GUARDIANS OF THE GALAXY #3
25:11-27:45 IRON FIST #4
28:00-30:32 X-MEN: GOLD #5
31:23-33:41 UNSTOPPABLE WASP #6
34:07-37:28 REBORN #6
37:29-41:30 Commercial Break: Age Of Comics
41:33-45:31 NOVA #7
45:54-48:13 AVENGERS #8
48:42-51:38 CHAMPIONS #9
52:02-54:25 CYBORG #13
54:54-57:05 SPIDER-MAN #17
57:36-59:19 NIGHTWING #22
59:20-1:01:10 BATMAN #24
1:01:11-1:01:29 AQUAMAN #24
1:01:30-1:01:37 GREEN ARROW #24
1:01:38-1:03:23 GREEN LANTERNS #24
1:03:24-1:04:12 SUPERMAN #24
1:04:13-1:07:23 Runner-Up & Best Book Of the Week/Back 'n Bag Of the Week aka BBOW
1:07:24-1:13:06 Talking Nerdy: comics-X-Men, FF, Hydra Cap, Civil War 2, DC comics
1:13:07-1:15:31 TNTM Update
1:15:32-1:16:09 Outro: Check out jspill.com, Donate to our PayPal on tntmtheshow.com, Social Media- http://tntmtheshow.tumblr.com, instagram.com/TNTMtheshow, www.facebook.com/TNTMtheshow, twitter.com/TNTMtheshow, send your questions & Dick(Grayson) pics to TNTMtheshow@gmail.com, you can find us on Stitcher, iTunes, Podirrectory, https://m.youtube.com/c/tntmtheshow
Outro Song: Cheap Shop